Twin-screw extruder is a key equipment in the industry of plastics polymers compounding and extruding. It can achieve polymer compounding and modifying, reaction, devolatilization, extrusion, granulating and is one of the core equipment in plastic industry.
The research and development, design, and manufacturing of Nanjing Keya's one-step process equipment for sheet materials can be dated back to the 1990s. Nanjing Keya's third-generation SK twin-screw extruder can achieve automatic production line from material conveying, proportioning feeding, compounding, exhausting to extruding and pressing, laminating, tracting, cutting, object holding manipulator, shrink packing, weighing, labeling and palletising.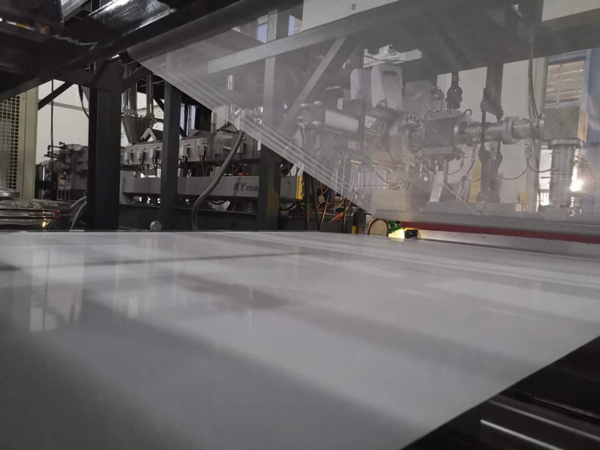 In the context of more efficient production and enhanced environmental awareness, Nanjing Keya's third generation one-step SK twin-screw extruder has the following distinctive advantages:
After 30 years specializing in plastics extrusion industry, Nanjing Keya has rich experience in materials.

The third generation SK provides high torque, high rotational speed and high capacity with stable and reliable performance.

The third generation SK achieves better material compounding and exhausting effect.

The third generation SK achieves an efficient reactive extrusion process and direct forming at a greater surface update rates.

The strong expansibility of control system can satisfy various users' requirement for the degree of automation.

Supporting auxiliary machines are verified by Keya Supplier Access System (KAS)with reliable quality and good services.

The efficient compounding of SK can reduce the energy consumption arising from material reheating and remelting, avoid low quality caused by polymer degradation, thus greatly promote production efficiency and lower labor costs.
Keya's technical engineers are diligently exploring plastics polymers modifying, granulating and extruding technologies and are creating a broader space for customers who are expanding upstream and downstream industries. We look forward to having the technical communication and the cooperation with you!