Hot Isostatic Pressing (HIP) is an indispensable means for the production of high-performance materials and the development of new materials. Hot isostatic pressing can be directly powder-formed, and materials treated by hot isostatic pressing can achieve 100% densification, thus improving the overall mechanical properties of materials.
Microstructural characteristics:

Powder alloy hot isostatic pressing steel (PMHIP) is a special material made by this process. This material has the following characteristics: 1. high alloy content; 2. uniform carbide formed by heat treatment; 3. long service life. Compared with domestic high-speed tool steel, its service life is increased by 5-10 times (verified). Nanjing KY Chemical Machinery Co., Ltd. has always been based on the market, focusing on improving user experience and increasing user investment returns. After a series of independent research and development, more than 200 KY equipments have used this kind of special material and passed the examination and verification. Our conclusion is that powder alloy hot isostatic pressing steel has the following characteristics compared with commonly used materials:
It can meet the requirements of wear resistance or corrosion resistance for processing special materials.




It can improve the service life of the equipment.




The consistency of product processing can be achieved. For this kind of raw materials, KY equipment chooses top suppliers from abroad, and then combines the development process of KY equipment. After special heat treatment, it can make this material have the following characteristics: 1. Size stability; 2. Hardness stability; 3. Carbide distribution is uniform in the micro-scale; 4. It meets the requirements of equipment torque grade up to 18NM/cm³. The screw element made of this kind of material adopts soft core structure, which has the characteristics of higher torque, stronger toughness and so on. The integral bushing made of the corresponding material meets the high performance requirements of wear resistance and corrosion resistance of users.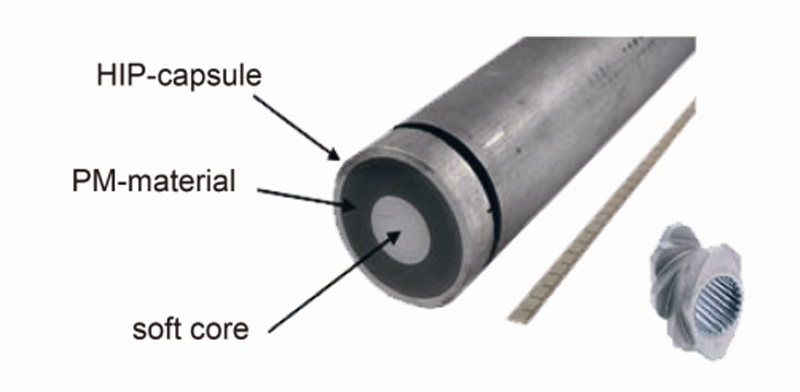 Nanjing KY Chemical Machinery Co., Ltd. is also based on customer needs. The wear resistance and corrosion resistance of materials can provide the best solution according to different materials. SK series extruder uses this material, under this condition, its overall performance has reached the international leading level. In order to improve the demand of high-end customers, Nanjing KY Chemical Machinery Co., Ltd. is currently developing higher torque applications. Your support has always been the driving force of progress of KY!