News of Global co rotating twin screw extrusion mixing system leader navigator Nanjing KY Chemical Machinery Co., Ltd. (hereinafter referred to as "KY Machinery") news. The third generation SK series plastic extruders with high torque and high rotation speed (screw speed: 900 rpm) introduced by KY Machinery at Chinaplas'2014 exhibition have been successfully applied in various polymer blending and modification industries. With the increasing awareness of user groups, the third generation SK series twin screw extrusion system has gradually occupied the domestic high-end customer groups, and will be delivered to the first batch of users in the international market in the near future.
With more than 20 years of operation experience in the Chinese market, KY Machinery has started with the actual needs and applications of Chinese local and foreign investment enterprises. It sets the latest achievements in the development of polymer materials industry and automation in mechanical processing in recent years. The third generation SK series, which is completed by research and development, is better able to meet the needs of various users in the Chinese market, and can increase the capacity of users by about 30% while reducing energy consumption by 20%.
The third generation SK series products are developed and manufactured by KY Machinery in the field of parallel twin screw extruder for many years. The high stability and energy efficiency of the whole machine can meet higher production efficiency. It has been used in the fields of plastic modification, mixing and granulation in China. The third generation SK series products are equipped with German imported high-torque, high-speed gearbox, high sensitivity and high reliability of the safety coupling to ensure the stable operation of the equipment. KY Machinery has established stable cooperation with many well-known material suppliers in Europe. It can provide all kinds of hot isostatic pressing composite powder metallurgical materials from super wear-resistant to super corrosion-resistant, which can be applied to the cylinder bushing, screw, mandrel and other key components of extruder to help users solve various complex working conditions.
The third generation SK series twin screw extruder system can coordinate with the AKP auxiliary pelletizing system, AKW water ring granulation system and AKB side feeding system developed independently by KY Machinery. The third generation SK series products were born under the rigorous standards of more than 20 high precision CNC machining centers and more than 10 key parts inspection processes. At the same time, it provides a variety of user-selected electrical control system schemes including remote control and wireless network cloud transmission of operational data, which provides high performance assurance for the testing, processing of various polymer materials and engineering control of large factories.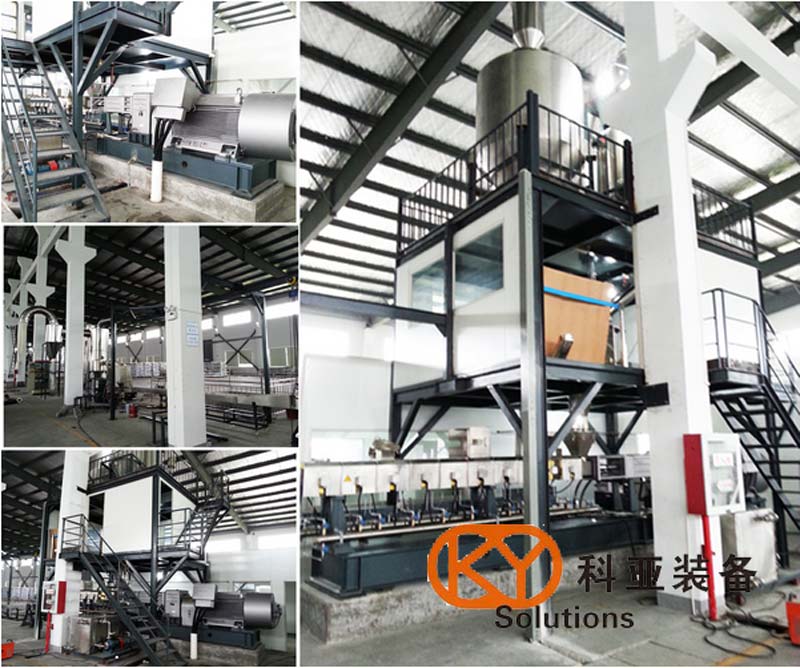 In the near future, the A SK96 underwater pelletizing system is equipped with 600kW main motor for PP and PPR production, with capacity of 20 thousand tons and 2 sets of SK96 complete systems. They will be delivered to production in August. B SK96 water ring granulator complete system, equipped with 630kW main motor, is used for silane crosslinking production, with an annual output of 10 thousand tons.
For more details, please visit the official website of KY Machinery! www.kymach.com
SINA Microblog: @Nanjing KY Chemical Machinery Co., Ltd.