Basic information:
Exhibition Name: the twenty-ninth China International Rubber and plastic exhibition(CHINAPLAS 2015)
Venue: China Import and Export Fair Exhibition Hall
Exhibitors: Nanjing KY Chemical Machinery Co., Ltd.
Exhibition stand number: 2.1D61
Area of booth: 174 square meters
On May 20th - 23rd, 2015, the twenty-ninth China International Rubber and plastic exhibition(CHINAPLAS 2015). be held in the grand opening ceremony. As a leader in the field of China's twin screw extruder, KY Machinery has been committed to brand innovation. At this rubber and plastic exhibition, what models will KY Machinery focus on? KY will show you in advance.
Third Generation SK Series Extruder
At present, it has been used in plastic modification, blending, granulation and other fields at home and abroad. In addition to equipped with German imported high torque, high speed gearbox, high sensitivity and high reliability of the safety coupling can ensure the stable operation of the equipment. KY Machinery has established a stable cooperative relationship with many well-known material suppliers in Europe. It can provide all kinds of hot isostatic pressing composite powder metallurgical materials from super wear-resistant to super corrosion-resistant, which can be applied to the cylinder bushing, screw, mandrel and other key components of extruder to help users face various complex working conditions. SK26 can complete 2-5kg technological experiments in the laboratory, and SK96 extruders which have been installed can help users obtain more than 2T per hour.
AKW800 Water Ring Pelletizer
Modular design, the granulator head, water ring granulation, material dehydration, recycling water tank components system integration to save user resources. For different material and output requirements, we provide special runner and template design, supplemented by professional granulation process, so that users can complete the granulation and drying of most thermoplastic resins in effective space, and obtain the best return on investment.
New Water Ring Component for Cast Aluminum Pellet
Efficient formwork to prevent material clogging
Mute exhaust dehydrator, with 360 degree open design
On-line Pneumatic Pellet Cutting Device
The same quality assurance cycle and quality service as the mainframe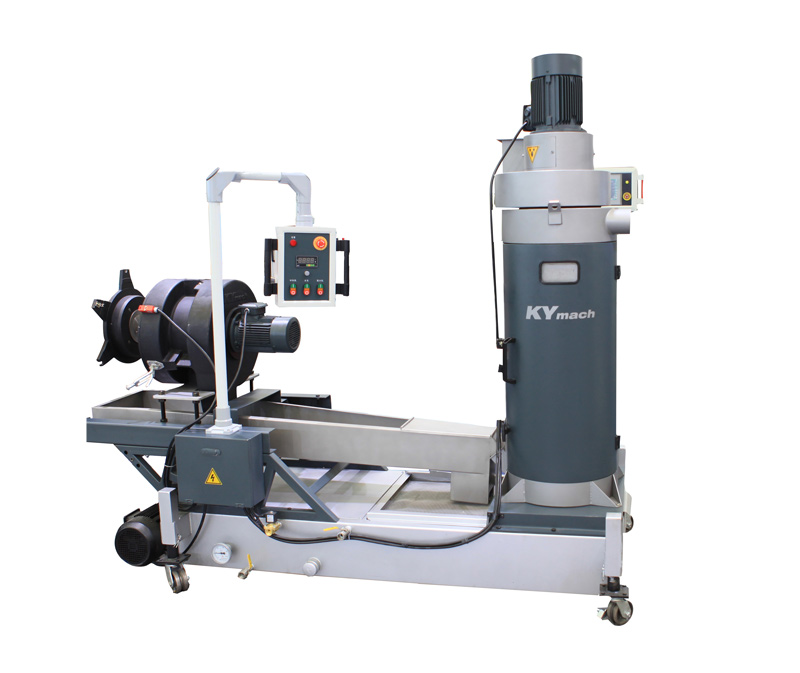 HK Series Extruder
KY Machinery is mainly made of economical and durable AK series equipment and high-performance equipment mainly made of German original component SK. It is aimed at the domestic basic market, as well as the needs of exporters and users of large enterprises. The HK twin screw extruder equipment introduced in this exhibition is aimed at the area between these two markets, enabling more customers to achieve high speed production and high efficiency output at low investment cost, and stand out in the fierce market competition.
Self-developed high torque gear box, designed screw speed of 900rpm;
The latest research results of twin-screw transmission system are adopted in the structure of mast gears and bearings.
The oil circuit and lubrication system of the enhanced gear box can work normally at low flow rate, and the pump body can run without maintenance for a long time.
Parts and components of processing section are common with AK and SK to ensure process consistency.
In addition to the product display, KY Machinery has also carried out a zero distance contact with customers through service, after sale and package solutions. For more wonderful content, please come to booth 2.1D61!