Overview of KY-Lab Twin Screw Extruder
Since its establishment in 1993, KY has been devoted to the development and manufacture of small laboratory twin screw extruders. On the 9th anniversary of the introduction of HK and SK series twin-screw extruder, KY introduced two new KY-Lab Twin Screw Extruders, namely, the new high torque HK26 and the super high torque SK26, with a diameter of 26mm. The model of our laboratory extruder for sale is specially designed for universities, scientific research institutes, and R&D departments of enterprises. Our laboratory twin screw extruder fully meets the tasks of teaching, formulation R&D, proofing, and small-batch production.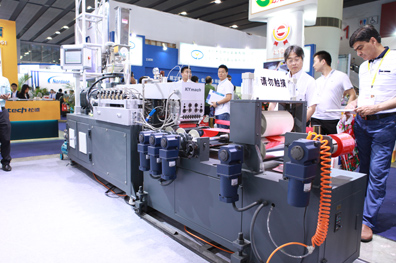 KY Lab Scale Twin Screw Extruder For Sale
Nanjing KY Chemical Machinery Co., Ltd. is a professional manufacturer and supplier of twin screw extruder of lab scale. If you are interested in our laboratory twin screw extruder for sale, please feel free to contact us directly for lab scale extruder price and more detailed information.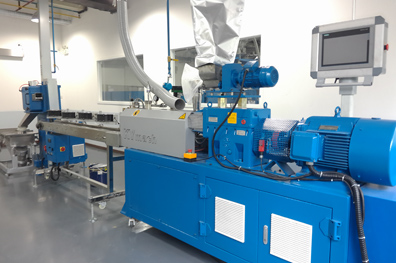 KY-Lab Twin Screw Extruder Has Obvious Advantages over Other Models
The clearance between the screw and cylinder of KY laboratory twin screw extruder is smaller, which is convenient for discharging and cleaning.

Modular structure, interchangeable 4D/6D barrel, standard screw element design.

Reliable synchronous amplification to HK and SK series products.

Spline sleeve and nose are the new quick-opening structure, clearing and screw replacement combination is more convenient.

The cooling pipes and wiring of the whole extruder pelletizer are all inside the base, which ensures the smoothness of the base surface and is easy to clean.

With the coaxial solenoid valve imported from Germany, the response time of our laboratory twin screw extruder is reduced by 90% compared with the conventional solenoid valve. The cooling efficiency of the cylinder is higher, and the temperature control accuracy can be maintained at <1 Celsius.

Movable base. The whole lab twin screw extruder is supported by four strong universal wheels. Only one person can easily use mobile devices.

Adopt KY independent intellectual property rights KY laboratory extruder for sale smart operation system software V5.0 as the whole machine control system, combine KY and Germany Germany in respective control technology superiority, guarantees the entire machine control intellectualization and the accuracy.
As a professional extruder machine manufacturer in China, KY has professional lab extruders for sale. Feel free to contact us for lab extruder price and other information now.